Kijabe Hospital
Kijabe Hospital is known for offering quality and affordable healthcare to vulnerable communities in Kenya. It also attracts medical tourists from Sudan and Somalia. This is a faith-based mission hospital with resident missionary doctors from the US and other parts of the developed world. The foreign team of missionary doctors help to subsidize medical and surgical costs for the patients.
Kijabe hospital (KH) has nine operating theatres to handle surgical cases. It also serves as a teaching and referral hospital for the region. The hospital operates one of the busiest orthopedic clinics in East Africa.
Every year, surgical students under the College of Surgeons of Eastern, Central and Southern Africa (COSECSA) program join the Kijabe community to hone their surgical skills. COSECSA is made up of both general and orthopedic surgery trainees.
Dr. Philemon Nyambati, a fellow of the COSECSA program, is a consultant orthopedic surgeon at CURE hospital which is affiliated to Kijabe hospital. He worked as an orthopedic resident at KH previously, and describes his experiences 'on the ground' at KH.
"Usually, I start the day at six in the morning," he says. "I grab my lab coat and head to the wards where I conduct ward rounds together with my team, composed of orthopedic residents, medical officer interns, and clinicians who are attached to the unit. During the rounds I review my patients and listen to case presentations. This also serves as a teaching session."
In a typical week, Dr. Nyambati would have three days in the operating theatre and two clinic days. "On theatre days I will be in the OR by nine am to conduct surgeries," he says. "Usually, I supervise the residents or operate side-by-side with them. I see six to eight patients on a normal day, but sometimes the theatre list may have as many as 12 patients. On a number of occasions I have left the hospital way past nine pm."
Dr. Nyambati would usually take one weekend call a month as the consultant on call from Friday to Monday morning.
"Working in Kijabe Hospital requires a total commitment to the profession," he notes. "When other healthcare workers are on strike for whatever reason, we do not join them. At such times it is easy to get overwhelmed by the workload because we receive an endless number of patients until we have nowhere to admit them. The emergency unit is usually the hardest hit because all the accidents will be rushed there and you cannot turn away patients who require emergency services. Otherwise, other calls are usually manageable especially because I am usually the last person on the pecking order to be paged."
Once a month, Dr. Nyambati conducts mobile clinics. "We visit remote parts of the country that do not have access to orthopedic services," he says. "We screen patients and schedule those who require orthopedic services at the hospital. This is another exciting aspect of my work because it allows me to offer my services to people who would otherwise not be able to access it."
Kijabe Hospital handles almost all types of orthopedic cases. "But given the nature and location of the hospital we see a lot of motor vehicle, motorbike and gunshot accidents," notes Nyambati. "We also see a lot of pediatric cases such as clubfoot. It is usually quite motivating to see a child who could not walk previously being able to finally move about and play with other kids."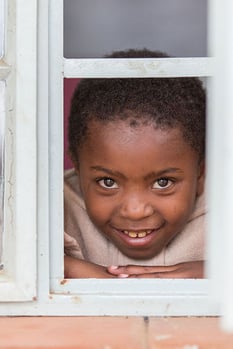 Nyambati says one of the most challenging parts of his job is when patients are not able to afford the needed services.
"This can be quite disheartening," he says.
"Another major challenge is the time loss that occurs during change-overs in the theatres. This occurs because theatre staff have to switch between roles that may be overlapping."
But he says the greatest highlight of his job is being able to put a smile on a child's face. "When I see a child who was previously immobilized being able to get up, run and play, my heart literally skips a beat. It must have skipped a dozen beats by now."
Dr. Nyambati's vision
Arbutus Medical is dedicated to providing safe surgery for all, making orthopedic care accessible for all and alleviating the greater burden of injury. The affordable orthopedic tools designed by Arbutus Medical make surgery more easy and affordable to access in low income countries like Kenya.